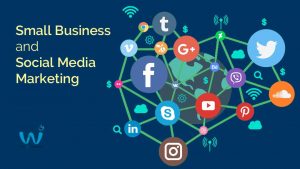 Social Media is the buzz word today. Social Media is the preferred platform for marketing for any business, big or small. Businesses are increasingly using Social Media platforms to connect with their audiences to generate brand awareness, increase sales and drive website traffic. This involves publishing great content on your social media profiles, listening to and engaging your followers, analyzing your results, and running social media advertisements. The process is better known as Social Media Marketing.
Social Media presence has become essential in today's business world. Small business owners may find it difficult to devote time to create and manage content on this new channel. However, with help of a good strategic plan and good marketing sense, any business can successfully manage a social media presence.
There are countless social networking websites. There are social media platforms out there for everything and everyone, including ones to connect people with shared interests, similar hobbies, comparable demographics, and much more.
It is difficult to maintain a social profile on all platforms and not all platforms are suitable for every kind of business. Therefore, to ensure a successful Social Media Marketing Campaign you should identify which social media network is right for your business. Three quick steps to help you choose optimal social media platforms for your business are:
Define your Goals
It is important to have specific goals in place before you move forward. Your objectives will determine your marketing goals, target audience, the content you will create and ultimately decide the best social media platforms for you.
Determine which channels your target audience is using
It is to your advantage to analyze which platforms your audience prefers and to seek them out on the networks they're already using. Several market survey reports describe the user profiles of different Social Media platforms. It would help you choose the one's which are closest to your customer profile.
Choose the content you would like to create
Different types of content work better with certain social media platforms, so it's integral that you consider the type of content you like to create and that works best with your brand. The type of content you create will depend on a number of things, including your industry, your brand, and your target audience.
Once you've settled on the goals you want to achieve with social media, determined where your audience is already hanging out and decided what type of content works best for you, you can then go through and compare the different social media platforms to determine which one will best meet your needs.
The major social media platforms (at the moment) are Facebook, Instagram, Twitter, LinkedIn, Pinterest, YouTube, and Snapchat.