Simply put, Marketing is the process of getting potential clients or customers interested in your products and services. Marketing is what you say and how you say when you want to explain how awesome your product or service is and why people should buy it. It is an ongoing communications exchange with customers in a way that educates, informs and builds a relationship over time.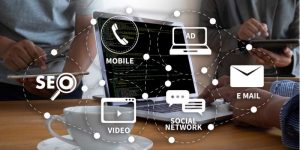 As mentioned above, any effort to spread the word about your company, products or services to sell or increase your sales is known as Marketing. It includes all activities and processes for creating, communicating, delivering, and exchanging offerings that value for customers, client, partners and society at large. And, when these efforts use Internet to reach people, it is called Digital or Online Marketing. In simple words, all marketing activities which involve use of internet or any form or electronic media is known as Digital or Online Marketing.  
In today's time and world, Digital or Online Marketing has a huge edge over traditional Marketing. Find out how Digital Marketing is better than Online Marketing.
Digital or Online Marketing can be categorized into several categories. Some of the major categories of Online Marketing include:
Search Engine Optimization (SEO)
Search Engine Optimization or SEO is the process of optimizing your website so that it ranks higher in the organic or unpaid search results for targeted keywords relevant to your business, product or service. Optimization of website has many aspects and include things like adding and optimizing title tage, meta descriptions, links, content etc so that search engines will be able to understand what they're seeing, and the users who arrive via search will like what they see.
Search Engine Marketing (SEM)
Search engine marketing is the practice of marketing a business using paid advertisements that appear on search engine results pages. In a way, it is paid version of SEO where marketers pay Search Engines to display ads in their search results in the hope to drive traffic of prospect customers, to their product landing pages. In paid search advertising, sponsored ads appear at the top of and on the side of search engine results pages to gain more visibility and prominence than the organic results.
Content Marketing
Content Marketing is defined as a strategic marketing approach focused on creating and distributing valuable, relevant, and consistent content to attract and retain a clearly defined audience — and, ultimately, to drive profitable customer action. It is a process where you provide truly relevant and useful content to your prospects and customers to help them solve their issues.
Social Media Marketing (SMM)
Social Media Marketing is the use of social media platforms to connect with your audience to build your brand, increase sales, and drive website traffic. Social media marketing includes activities like posting text and image updates, videos, and and other content tailored to target audience for engagement. The major social media platforms (at the moment) are Facebook, Instagram, Twitter, LinkedIn, Pinterest, YouTube, and Snapchat.
Affiliate Marketing
Affiliate Marketing is generating sales and revenues by promoting your products or services on another business website. You offer certain amount of commission or revenue sharing to your affiliates or marketing partners for referring your products and services. Any sales through affiliate reference channels earns commission for the referring affiliate. The process works vice versa too.
Email Marketing
Email marketing is the process of sending commercial messages through email to targeted consumers. It is a highly effective digital marketing strategy of connecting with your leads, nurturing them, and turning them into customers, consistently winning out over all other marketing channels. It is a direct form of marketing, similar to marketing through snail mail, but email marketing is much more efficient for your wallet and for the environment since it's totally paperless!
Pay per Click Marketing (PPC)
Pay per Click marketing is a model of internet marketing in which advertisers pay a fee each time one of their ads is clicked. It is a way of using online advertising to generate clicks to your website. Search Engine Marketing is PPC Marketing but PPC is not limited to Search Engines. Several Social Media websites, online directories and other such websites offer PPC advertising to drive targeted traffic to your website.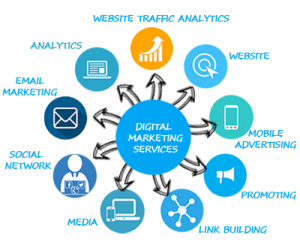 So, Online marketing is classified into different categories based on the online method or medium you use to advertise your business.
Web Apps Interactive offers complete Online Marketing Solutions tailored to your requirements and within your marketing budget. To know more about our services feel free to call us or write to us at info@webappsinteractive.com.